What we do

We help organizations obtain the skills needed to meet delivery deadlines, reduce development costs, and increase product and service quality. We work primarily with software, hardware and systems development, IT and service delivery organizations.

Software development, IT and hardware organizations

Service delivery organizations

We provide education and consulting on:

CMMI-Services (implementation and appraisals) for service organizations (e.g., financial accounting, healthcare-transaction auditing and IT support).

Read more

.

Our approach

We work to understand your unique situation, goals and challenges

---

Tailor our approach to fit your specific needs

---

Deliver our services in the way you want: onsite, online, phone

---

No minimum purchase required

---

Provide you with immediate and pragmatic help

---

Provide a lifetime complimentary help line by email and phone

Please browse our site. Contact us if you have questions or would like to discuss your needs.

"Their service and attitude are exceptional. They convey a sincere, personal interest in wanting to help you remove the hurdles that face your organization." - Libby Dunn


---
News update and events
New newsletter: Expediting CMMI Maturity Level 3 - 10 Essential Tips and Their Demons
ASQ Software Division conference: Achieving Safe, Effective, and Reliable Software, Feb 24-26, Richardson, Texas. See Neil present 3 sessions:
Scrum – What is It, How to Do It, What to Worry About, What's missing
Scrum and Safety Critical Systems – What to Worry About, What's Missing, How to Fix it
Getting People to Change – The Next Steps After the Beating Stops

Previous tidbit: When Scrum Uncovers Stinky Issues
Read our books: Making Process Improvement Work for Service (and Development) Organizations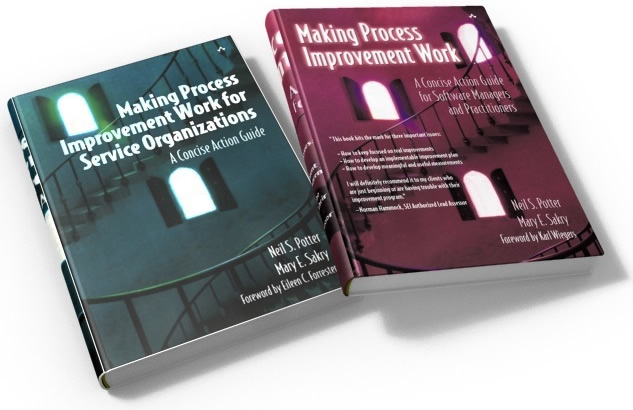 Scrum 2-day workshop and consulting assistance: Learn how to implement Scrum for software development, or improve your current Scrum implementation.
CMMI / SCAMPI 1.3 page: See links to summary and detailed files describing the changes in CMMI and SCAMPI 1.3.
Dedicated phone-based assistance: Obtain our expertise while eliminating travel expenses.
© The Process Group