Upcoming Events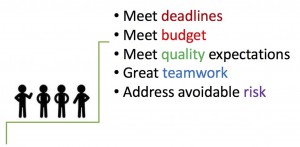 FREE LIVE WEBINAR: "Avoiding a Project Death March," April 4th, 11:00 AM – 12:00 PM EST (45 mins + Q&A), sponsored by The Great IT Professional.
A death march is when project staff members believe the project is destined for failure, or that it requires a stretch of unsustainable effort to achieve any success. This session will cover the common causes of death marches, how to develop data and options used in negotiation, and a simple negotiation approach to address the concerns of customers and managers. 
FREE LIVE WEBINAR: "Making Project Governance Easier and a Bit More Fun via Checklists, Tools and Lessons Learned," May 18th, 11:00 AM – 11:45 PM EST (30 mins + Q&A), sponsored by The Great IT Professional.
Organizations want to know if their projects are performing company expected practices and usually adopt governance steps to see how projects are performing. Governance can lead to a lot of extra work and be intimidating. This talk will describe how checklists, tools and lessons learned can make things easier.
Date not good?
If you would like any event as a custom session for your group at an earlier or later date, please contact us and we will be happy to set up an event. See our Anytime Webinars.
About the instructor
Neil Potter is co-founder of The Process Group, a company formed in 1990 that consults on Scrum, requirements, leadership, software engineering, process improvement, CMMI, and project management.
He has 32 years of experience in software and process engineering. Neil is a Certified Scrum Master, CMMI-Institute certified lead appraiser for SCAMPI appraisals, Intro to CMMI instructor (development and services) and Six Sigma Greenbelt. He has a B.Sc. in Computer Science from the University of Essex (UK) and is the co-author of Making Process Improvement Work – A Concise Action Guide for Software Managers and Practitioners, and Making Process Improvement Work for Service Organizations, Addison-Wesley. 
"If you are looking for a typical improvement consultant, Neil's not your man, because his approach to the discipline is pragmatic, results-driven and rife with common sense. He has demonstrated this time and again through the years. His straightforward approach to often complex issues has been a lifesaver for several organizations I have supported. I've always appreciated Neil's honesty and propensity for telling you how it is. I would not hesitate to hire Neil again, or recommend others to do the same."

Rob Wyatt, IT Director at Dell Inc., TX.

"The Process Group's Agile/Scrum class provided useful guidance on how to combine Agile/Scrum methodologies with software engineering lifecycle processes, creating a powerful combination of adaptability and predictability for software development."

Margaret Bailey, Engineering Process Group Lead, Sonalysts, Inc., Waterford, CT.
"Working with Neil on Scrum and Agile implementation removed a lot of the initial frustration our teams felt about incorporating the processes. Understanding the added benefits and seeing measurable improvements brought everyone on board."

Mark Schulte, Software Branch Manager, KIHOMAC, Dallas TX.
"The Process Group is focused on business results and engineering the lightest weight processes to help you achieve them. They helped us mature our development life cycle to CMMI Level 3 in a timely and efficient manner without limiting our innovative research and product delivery capability."

Jim Congdon, Core Software Engineering Manager, Information Science and Engineering, Logos Technologies LLC, Raleigh, NC.